Niigata Hotel and Bridal College
wish
Acquire high-quality skills using rich facilities and obtain your desired job!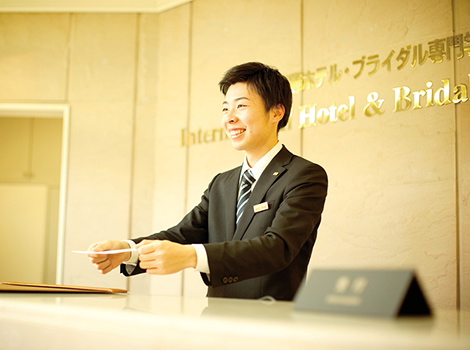 Features
Real hotel and bridal facilities are our school buildings! Classes conducted in the environment with a real front desk, guestrooms, restaurants, and a chapel provide first-hand experience to students. In this favorable environment, students not only acquire expertise and skills, but also learn hospitality from professional instructors. Students also build work-ready capabilities by leveraging a long-term training system which provides opportunities to gain on-the-job experience at famous hotels.
Employment Track Record
Employment rate: 100%! The high-quality work by our graduates across the country has provided us ongoing job offers.
Career Guidance
Class supervisors who used to work in the industry and instructors in charge of employment provide each student thorough personal guidance, which includes everything from the basics to actual practice of job-hunting activities, such as how to write a resume and interview training.
Major places of employment
ANA InterContinental Tokyo, GRAND HYATT Tokyo, MILIAL RESORT HOTELS, Arkbell, VIP and others
Course
Hotel & Bridal Department: Wedding Planner Course
The course aims to develop human resources capable of producing wedding ceremonies via a curriculum that focuses on actual practice, including the planning and operation of real wedding ceremonies.
Hotel & Bridal Department: Bridal Fashion Course
The course aims to develop human resources who have the latest fitting expertise and skills and who are capable of proposing and coordinating costumes.
Hotel & Bridal Department: Bridal Beauty Course
Students acquire hair styling, nail art, and aesthetic techniques in practice rooms and aim to become stylists who can fully bring out the beauty of each bride.
Hotel & Bridal Department: Bridal Flower Course
Students learn flower arrangement and colors for bouquet and hall decoration and acquire skills to produce exquisite weddings.
Hotel & Bridal Department: Hotel Staff Course
Students learn front desk and accommodation operations in a favorable environment, where real hotel facilities are the school buildings, and aim to become first-class hotel staff.
Hotel & Bridal Department: Food & Beverage Service Course
Students receive customer service training using restaurants and cocktail lounges and aim to become professionals who serve food and beverages to customers.
Funeral Director Department
Aiming to become funeral directors who create memorable funeral services, students acquire funeral expertise and qualifications.
| | | |
| --- | --- | --- |
| address | | |