International Nature and Outdoor Activity College
i-nac
Let's become professionals who connect people with nature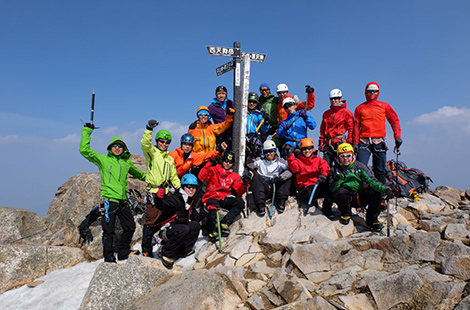 Features
Students learn a wide range of fields related to nature through a practical curriculum centering on field work in the midst of the rich nature of Myoko. This is the only college whose climbing guides and nature guides courses are accredited by the Japan Mountain Guides Association. Through a variety of practice opportunities and the curriculum geared to the acquisition of qualifications, the college develops industry-ready human resources.
Employment Track Record
Employment rate: 100%. The high-quality work by our graduates has built the trust of companies in our college and led to continuous employment offers.
Career Guidance
Course heads and class supervisors provide personal guidance tailored to each student. The college gives its students an edge over others in job-hunting activities by incorporating an internship program into the curriculum.
Major places of employment
Club Tourism International Inc., GOLDWIN INC., POWERZONE, Forum for Environmental Symbiosis in Shirakawago, KOJITSUSANSO Co., Ltd. and others
Course
Outdoor Life Course
Students aim to become professionals who connect outdoor activities with health, education, community revitalization, and environmental conservation.
Nature and Childcare Course
Students aim to become childcare and early childhood education professionals who use the natural environment as a place of education.
Nature Guides and Environmental Conservation Course
The course aims to develop nature guides who can contribute to the conservation of the natural environment.
Professional Mountaineers Course
Students obtain mountain guide qualifications at the time of graduation and aim to become professionals who can show the precious value of mountains and nature.
Outdoor Sports Course
Students aim to become outdoor sports professionals under the direct coaching by leading professionals and a rich training environment.
Advanced Course
This course targets persons with qualifications for early childhood education and those with mountain biking and climbing experiences.
| | | |
| --- | --- | --- |
| address | | |