GIA Niigata International Automobile College
GIA
Learn automobile technology and obtain a job in Japan!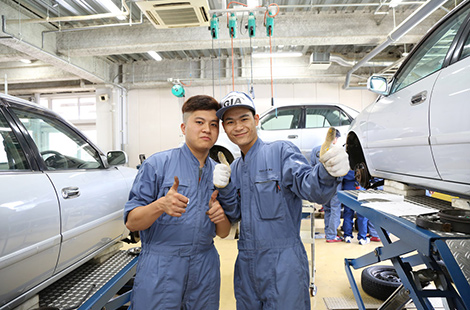 Features
Students can obtain up to 29 automobile-related qualifications. As proven by the employment rate of 100% for the eleventh consecutive year since its establishment, one of the strengths of the college lies in job placement. It also has a solid part-time work/ apartment introduction system, which enables international students to concentrate on their studies without financial worries.
Employment Track Record
Employment rate: 100%! Many international students have also found jobs in Japan.
Career Guidance
A thorough employment support system is in place, which includes the implementation of employment guidance meetings specifically for international students and personal guidance tailored to each student.
Major places of employment
TOYOTA MOTOR CORPORATION, Niigata Toyota, NISSAN Satio Niigata, Nissan Prince Niigata Hanbai, Niigata Subaru, SUZUKI NIIGATA HANBAI, and many others
Course
Automobile Service Course
Students aim to obtain second-class auto mechanic certification in two years. Many international students are enrolled in the course aiming to obtain jobs in Japan.
1st Class Auto Mechanics Course
Students aim to acquire 1st class auto mechanic certification in four years. They can also receive guidance from the technical staff members of auto manufacturers.
Auto Body Repair Course
Students aim to obtain both auto body repair and 2nd class auto mechanic certificates in three years.
Motor Sports Course
An official race participatory driver development system has been established in partnership with the Albirex Racing Team.
Motor Sports & 2nd Class Auto Mechanics Course
Students first learn motor sports and then acquire 2nd class auto mechanic certification.
Automobile Design Course
After two years of study, students become eligible to apply for employment with automobile manufacturers.
Auto Mechanics Course for International Students
Students aim to acquire 3rd class auto mechanics certification in one year.
Auto Body Repair Major
Students acquire auto body repair skills, which will enable them to obtain employment in a wide range of fields.
EV & Electric Work Specialist Major
Students aim to obtain auto mechanic and electric work specialist certification, which will give them an edge over others in employment.
Automobile Design Major
This is a major to develop full-fledged automobile designers with a broad perspective.
| | | |
| --- | --- | --- |
| address | | |